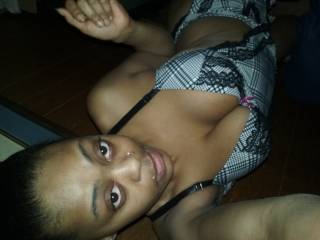 They call me Fantasy, truly a beautiful fantasy! I`m 5"4`ft., carmel skinned, brown eyes, long brownish/redish hair, average( with a little exstra) body type and an amazing style. I`m very out going, bisexual and LOVE to meet knew people who are looking for a good time, great sex and and a little openminded.
Description
Gender: female
Age: 24
State: Arizona
Country: USA
I speak:

My Personal Info
| | |
| --- | --- |
| Height | 5 ft |
| Weight | 138 lbs |
| Ethnicity | Not available |
| Eye color | brown |
| Hair color | brown |
| Hair length | long |
| Figure | thickish |
| Body hair | normal |
| Pubic hair | shaved |
| Cup size | D |
| Glasses | no |
| Tattoos | several |
| Piercings | several |
| Marital status | Not available |
| Children | Not available |
| Smoking | yes sometimes |
My preferences
What I'm looking for, is
a woman
a man
a couple
a transexual
a bisexual
What I would like to experience, is
a flirt
email sex
an exciting friendship
fetish erotic
group sex
What turns me on, is
Anal sex
Oral sex
Being submissive
Being dominant
Sex Toys
Outdoor sex
Public sex
More about me
What I can tell about myself
I`m a very sexual woman who loves to get dripping wet and play in my own juices.
What's being said about me
Lady in the streets but a Freaky Fantasy in the sheets!
My erotic fantasy
Not available
Visit my diary daily to stay up to date with everything I do.

New

new pics and videos coming real soon....... dont miss this beautiful Fantasy!!!!!

sexting

any handsome men want to sext with my milk chocolate, slim thick, wet pussy, big titts ass. Im in a mood for some good sex convo and pics.

I`m back

Fantasy`s never end........ Fantasy is back in action, ready to get wet and wild!!!! Come play with me!!!!

Fantasy babiie
This gallery contains media from the categories Bra, Bikini, Big Breasts, Posing, Lace.

New sexy, hot pics

New pics that will have you drippin, posted in galleries "Wildest fantasy and G-strings, Thongs and boy shorts".....
Looking for some fun

anybody want to chat with a hot, sexiee horney babe like myself... I`m in the mood for a lil email sex!!

Work time

come join in on Fantasy`s LiveCam as she gets ready for work...shaking her sexy ass and getting dressed up! A hell of a sight!!
Come get you some

New photoes in 3 different galleries....... come see what Fantasy has up her sleeve!

G-strings, Thongs and boy shorts
This gallery contains media from the categories Bathroom, Big Breasts, Closeup, Thong, Fetish.
Gefunden in Bathroom | Big Breasts | Closeup | Thong | Fetish
Live Cam Sessions

Hi all my hot sexy peeps online tonight... feeling hot and bothered or just need to relief a little....come take a peak at Fantasys live shows tonight, I can help you forget all your problems for tonight!! Live Cam sessions have been running on/off since 9pm and will continue up until 1230am(Aug. 16th).