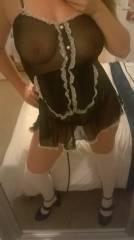 Big bust, fat ass, brunette -long hair, always dripping wet and Horney!! thought this would be perfect for me as i love anything sexy! Will do just about anything to please myself and you!!
Description
Gender: female
Age: 30
State: North West England
Country: United Kingdom
I speak:

My Personal Info
| | |
| --- | --- |
| Height | 170 ft |
| Weight | 73 lbs |
| Ethnicity | White / Caucasian |
| Eye color | green |
| Hair color | brown |
| Hair length | very long |
| Figure | normal |
| Body hair | little |
| Pubic hair | partly shaven |
| Cup size | E (DD) |
| Glasses | no |
| Tattoos | none |
| Piercings | one |
| Marital status | single parent |
| Children | 1 |
| Smoking | yes sometimes |
My preferences
What I'm looking for, is
a woman
a man
a couple
a transvestite
a transexual
a bisexual
What I would like to experience, is
an escapade
a flirt
an affair
a ONS
an exciting friendship
BDSM
group sex
What turns me on, is
Oral sex
Being submissive
Being dominant
Sex Toys
Swinger
Outdoor sex
Public sex
RPG
BDSM
More about me
What I can tell about myself
I love cock and sex and cock and sex and more cock and sex!!!
What's being said about me
Not many people know my business so I`m a mystery and your fantasy!!
My erotic fantasy
To be fucked in a variety of unusual places
Visit my diary daily to stay up to date with everything I do.

Freaky27 writes a comment:
Pretty in pink
Gefunden in Brunette | Open Legs | Big Breasts | Butt | Selfies
naughty!!

I have lots of new outfits..just uploaded a new album...loads more to come, hope everyone enjoys
wow

I LOVE my new toys!!! When everyone told me I haven`t lived unless iv tried them.. I can see why! It is defo the beginning of a new collection
excited

Had some new outfits and toys arrive today!! Looking forward to showing you all and having lots of fun
Today

Today has been cold wet and windy, the perfect day to put the heating on walk around naked and play with my toys all day

teaser
Just a little teaser to show u what i have to offer
Freaky27 writes a comment:
Just me in the morning
Gefunden in Busty | Big Breasts | Clit | Closeup | Amateur

nude
A few photos after my shower in the mornings
dminney writes a comment:
Gorgeous body hmm
Freaky27 writes a comment:
After the shower
Gefunden in Open Legs | Big Breasts | Butt | Thong | Selfies

bikini body
Fun in the sun
dminney writes a comment:
Very very sexy pics
Freaky27 writes a comment:
On the beach in the summer 2014!! My second home..i love the beach!!
Gefunden in Bikini | Big Breasts | Butt | Tits | Amateur