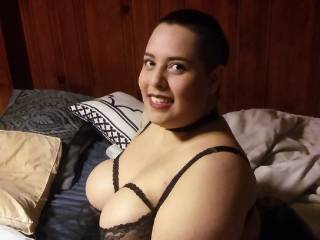 I love sexting! It`s a past time of mine! Getting those hot messages while doing errands or while at dinner with family is to die for. Nothing makes me cum harder than a good sexting session other than physical sex.
Description
Gender: female
Age: 26
State:
Country: USA
I speak:

Hey there. I'm looking for someone to be submissive to, someone who'll when to give me a good spanking and hair pull and know when I've been so bad the only fix would be sucking your cock or you pounding away at my insides. Won't you let me be you little cum slut?
My Personal Info
| | |
| --- | --- |
| Height | 5 ft |
| Weight | 260 lbs |
| Ethnicity | Latino / Hispanic |
| Eye color | brown |
| Hair color | black |
| Hair length | short |
| Figure | thick |
| Body hair | normal |
| Pubic hair | Not available |
| Cup size | G |
| Glasses | yes reading glasses |
| Tattoos | none |
| Piercings | one |
| Marital status | with partner |
| Children | none |
| Smoking | no |
My preferences
What I'm looking for, is
a woman
a man
a couple
a transvestite
a transexual
a bisexual
What I would like to experience, is
What turns me on, is
Vanilla sex
Oral sex
Being submissive
Sex Toys
Swinger
Outdoor sex
RPG
BDSM
More about me
What I can tell about myself
Not available
What's being said about me
Not available
My erotic fantasy
Not available
Visit my diary daily to stay up to date with everything I do.

Christmas Eve Play Time
Tuala was left alone on Christmas Eve! What kind of mischief will she get into?

Just playing with camara after a shower
Finally feeling better, so I took some pictures after I got out of the shower.
Gefunden in Busty | Big Breasts | Butt | Latinas | Selfies

Simply Selfies, SFW
A collection of my selfies that are safe for work. A gallery of my not safe for work selfies will posted later this week under the title of "Simply Selfies, NSFW". Other NSFW images can be found in other assorted galleries.
Gefunden in Busty | Big Breasts | Latinas | Selfies

Tuala in Plaid
Fully dressed while showing ample bossom, Tuala shares her application test photos
Gefunden in Busty | Big Breasts | Latinas | Selfies

Tuala in a bra and petticoat
Showing off considerably more skin, Tuala shares her first lingerie shoot. Beautifully in a decorative bra, this 40G tits are here just for you.
Gefunden in Busty | Big Breasts | Latinas | Posing