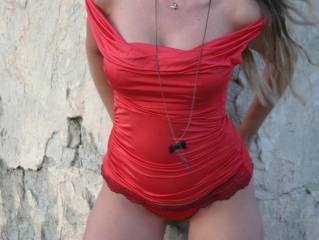 Description
Gender: female
Age: 33
State:
Country: Spain
I speak:

My Personal Info
| | |
| --- | --- |
| Height | 5 ft |
| Weight | 130 lbs |
| Ethnicity | White / Caucasian |
| Eye color | blue |
| Hair color | blonde |
| Hair length | longer |
| Figure | normal |
| Body hair | none |
| Pubic hair | little |
| Cup size | Not available |
| Glasses | no |
| Tattoos | none |
| Piercings | none |
| Marital status | single |
| Children | none |
| Smoking | no |
My preferences
What I'm looking for, is
a woman
a man
a couple
a transvestite
a transexual
a bisexual
What I would like to experience, is
an escapade
a relationship
a flirt
email sex
an affair
an exciting friendship
fetish erotic
group sex
What turns me on, is
Vanilla sex
Anal sex
Oral sex
Peeing
Being submissive
Being dominant
Sex Toys
Swinger
Outdoor sex
Public sex
Dessous
Voyeurism
More about me
What I can tell about myself
Not available
What's being said about me
Not available
My erotic fantasy
Not available
Visit my diary daily to stay up to date with everything I do.

Sex in the mill
I was taking a photo shoot at a mill in the field. First I undressed and then I started to masturbate. I had to stop because the watchman of the mill arrived. He told me it was forbidden to have sex there, but I know that all he wanted was to look closely. He had been watching me from a distance and touching his ...
Gefunden in Bra | Outdoor | Exhibitionist | Big Breasts | Red hair

Playing with a carrot in my pussy
I`m very hot, look how wet my pussy is and how I play with it and a carrot. It is said that vegetables are very healthy, right?
Gefunden in Cumshot | Big Breasts | High Heels | Clit | Toys

Wanna a cup of milk?
I have milk in my tits. Wanna taste? It is medium sweety and salt.
Gefunden in Bizarre | Big Breasts | Closeup | Pregnant | Fetish

Snow can not cool my hot pussy
Photo shoot in the snow in thong and bra
Gefunden in Bra | Bizarre | Outdoor | Exhibitionist | Open Legs

Look at my cleavage
In this video you can see how I touch my tits like two balls
Bobbins90 writes a comment:
lovely as always :)
Gefunden in Exhibitionist | Big Breasts | Closeup | Tits | Dirty Talk

In the beach
In winter there is nobody on the beach, so I do not carry part of the bottom
Gefunden in Analsex | Outdoor | Exhibitionist | Big Breasts | Posing

In the pool
That day I was thrown out of the pool for teaching her boobs and ass
Gefunden in Bikini | Blonde | Outdoor | Exhibitionist | Big Breasts

Orange leggins
Photo session with sexy and very tight leggings
Gefunden in Big Breasts | Panty | Leather | Red hair | Fetish

Sex in the stairs
It was pleasurable to hanging my clit and use my favourite dildo in the stairs. Can you help me to have more sex? I need it everyday.
Gefunden in Dildo | Bizarre | Big Breasts | Panty | Clit