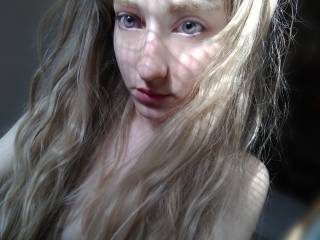 Hi! i like to explore new things and consider myself a very open kind and sex positive person, i would love to push all prejudice aside and enjoy my sexuality freely and i hope we can have a great time!
Description
Gender: female
Age: 22
State:
Country: USA
I speak:

My Personal Info
| | |
| --- | --- |
| Height | Not available |
| Weight | Not available |
| Ethnicity | White / Caucasian |
| Eye color | Not available |
| Hair color | Not available |
| Hair length | Not available |
| Figure | slim |
| Body hair | none |
| Pubic hair | none |
| Cup size | D |
| Glasses | yes reading glasses |
| Tattoos | none |
| Piercings | none |
| Marital status | nothing fixed |
| Children | none |
| Smoking | yes sometimes |
My preferences
What I'm looking for, is
What I would like to experience, is
a flirt
an exciting friendship
fetish erotic
BDSM
What turns me on, is
Vanilla sex
Anal sex
Oral sex
Being submissive
Sex Toys
Public sex
Voyeurism
BDSM
More about me
What I can tell about myself
Hedonist by nature
What's being said about me
Not available
My erotic fantasy
Ask me or find out
Visit my diary daily to stay up to date with everything I do.

A few more selfies
This gallery contains media from the categories Blonde, Big Breasts, Normal, Posing, Teens.
wolfsp78 writes a comment:
love the eyes sweetie
Gefunden in Blonde | Big Breasts | Normal | Posing | Teens


having fun on my bed
pervert cutie little kitten that you would love to cuddle with and touch in intimate places :$
joshf420 writes a comment:
Yummy
dminney writes a comment:
I love these pics WOW!
Gefunden in Busty | Big Breasts | Schoolgirl | Thong | Teens

wanna preview me?
This gallery contains media from the categories Busty, Tits, Teens, Amateur, Selfies.
ProCap writes a comment:
Very attractive photos/would love to see a facial photo as well
Sitonthis6932 writes a comment:
Sexy! Can I play?

Get to know me a little better :3
Give me a warm welcome to the community! i`m new and i accept suggestions for future pictures and videos, hope you all like my material. I`m still a little shy
Emile123 writes a comment:
Hi baby....and now I know what my life is missing...you! I`m not sure I have the vocab to do you justice....simply beautiful, sexy and perfect....love your ass, your breasts....your pussy looks awesome....instant hard on, nearly had an accident..xxxx
dminney writes a comment:
Oh baby, what a gorgeous body you have; I would like to play with you for hours.